Moving Life | Atto Folding Mobility Scooter - AT01-101-B2
Save up to

$0.00
Save

$-2,998.00
Original price
$2,998.00
-
Original price
$3,298.00
Call now to lock in the best prices online: 877-699-9227

Free Shipping & No Sales Tax for a limited time.
Description

Medicare/Insurance
The industry's most stylish foldable scooter is also the smartest and safest solution for anyone with limited mobility. ATTO empowers you to move and travel independently, while giving you the confidence that comes with a great-looking essential vehicle.
Unfolds in seconds
Split to 2 compact parts
Fits car trunk
Flight approved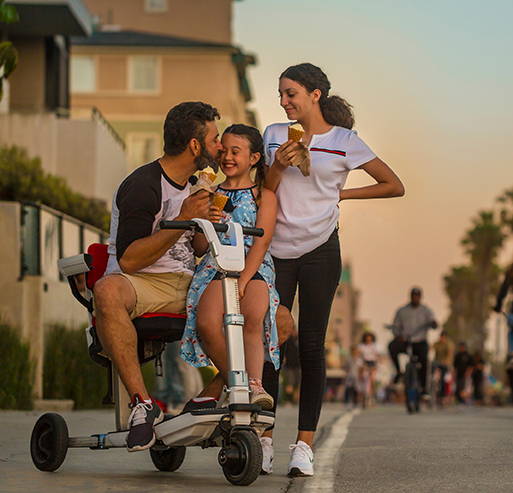 LOOK GREAT, FEEL CONFIDENT
ATTO gives you as much confidence as it does convenience, freedom and safety. This exceptional mobility scooter boasts a contemporary, "high-tech" design that you can be proud of as you move about independently.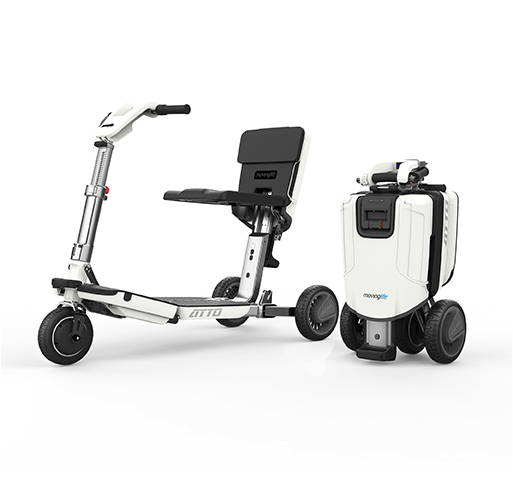 FOLD AND EXPAND INDEPENDENTLY
In designing the ATTO we focused on enabling as much independent usability as possible, so that you can easily take it with you everywhere and anywhere. The ATTO folds and unfolds in seconds so that you can store, wheel or ride whenever you see fit.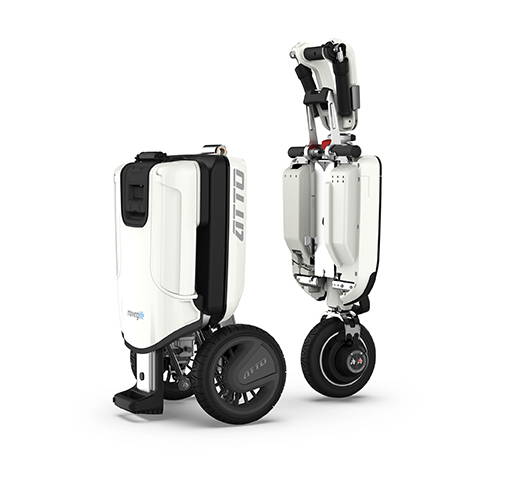 EASILY SPLIT, LIFT AND STORE
To enable maximum self-sufficiency with the ATTO, we've made it easy to split the vehicle into 2 lighter sections. This makes it easier to life and store its parts where and when needed. Weight: Front half - 26.4 lbs, Rear half: 37.5 lbs.
WHEEL IT LIKE A TROLLEY
For transport when you're not riding, fold the ATTO like a suitcase and wheel it to its next stop or point of storage. This mode makes it extra convenient to take it on any trip, via any terrain and use only when needed.
RIDE ANYWHERE IN COMFORT
The ample legroom provided in the ATTO is roomy and extremely comfortable, but it also offers a sensible solution for anyone challenged to bend their knees freely. ATTO also has 4.7" ground clearance, so you can ride on various terrains and trails.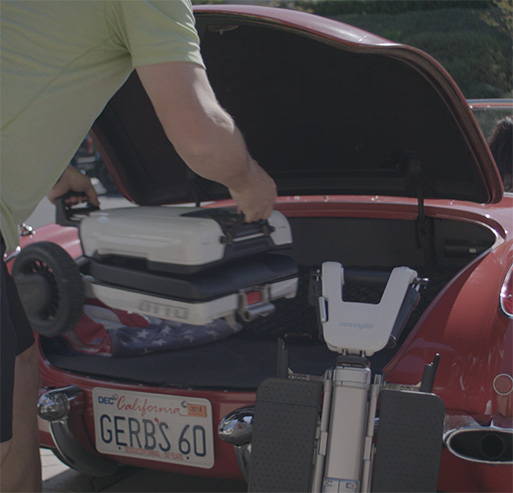 SLIP IT IN THE TRUNK
Even we are sometimes amazed to see the ATTO fit into the smallest car trunks available! We designed it this way so that you can travel freely, park wherever needed and never have to be without your scooter on hand.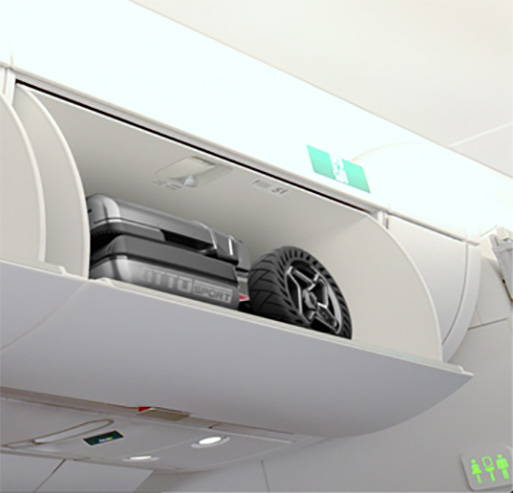 DRIVE IT ONTO THE AIRPLANE
Not only can you cross even the vastest of international airports with your ATTO, but its design and its lithium battery are also approved by most airlines to go all the way onto the aircraft! This means you don't have to check it with your baggage and wait for it, and you can even enjoy easy overhead storage once you board.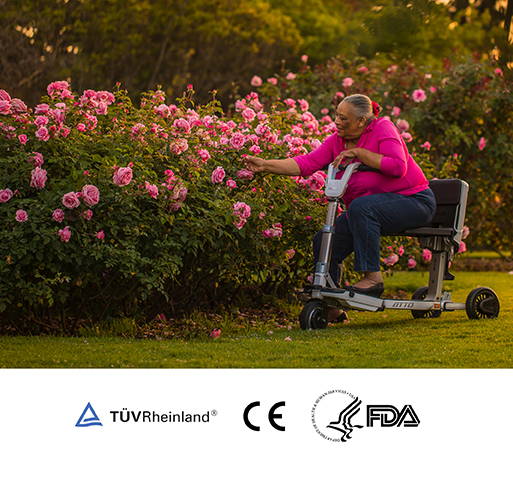 ACCESSORIES WITH ELEGANCE
Our growing line of ATTO accessories, is designed to enable the most optimal experience for every user and need. From extra storage, to enhanced visibility and personalized assistance solutions, ATTO accessories are all based on real needs we have learned about through experience.
EXPERIENCE INBUILT SAFETY
ATTO is designed to comply with international safety requirements including EN 12184 and ISO 7176-15, and its components and battery are also TSA, FDA, CE approved for storage aboard an aircraft. The European Medical Devices Directive of 93/42/EEC classifies the ATTO Mobility Scooter as a Class I device.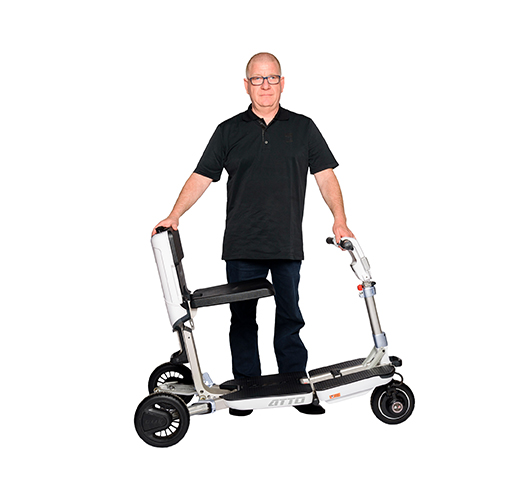 ENJOY EXPERIENCE-DRIVEN DESIGN
ATTO is the brainchild of tech entrepreneur Nino Ransenberg, who is a Polio survivor with limited mobility. A frequent business traveler, Mr. Ransenberg established Movinglife to produce life-changing mobility solutions that effectively address a range of real-life needs, with a focus on high-quality, high-performance and style.
FEATURES
Stylish contemporary design
Easy to fold into suitcase size and easy to unfold
Splits into 2 lightweight segments for easy carrying, and overhead or trunk storage
Trolley mode makes it convenient to walk with and steer when folded
Ergonomic design with ample legroom and armrests
Lithium flight-approved battery and charger
Adjustable seat with 3 different heights
Easily adjust height and angle of tiller
Lightweight aluminium chassis
Brushless DC motor enhances durability and power
Led display tracks speed, battery and travel direction
On/ off button
6 Travel speeds
Onboard USB charging port
Warning sound alert (horn)
One-click shift from forward to reverse
Automatic reverse travel alert sound
Left hand compatible
Magnetic lifting handle
Easy access to battery when folded
Patented contractable rear wheels
Extra storage room under seat
Anti-flat airless tires, puncture-free
FDA, TUV and CE certified
Padded handlebars for convenient and safe gripping
12cm ground clearance in various terrains
ERB (Electric Release Brake) for safer braking  
ABS (Automatic Brake System) for emergency braking
Automatic slowdown on slope and in sharp turning conditions
Free wheel (neutral mode) enables wheeling when battery is empty
SPECS
Battery: 48 Volt lithium-ion, more than 20 km / 12.5 miles of continuous driving, only 4 hours on average for full charge. Charge on-board and off-board.
Charger: International 110-240V AC charger
EU and ROW (Rest of World) warranties provided

Product Dimensions:
Trolley Mode
Height 28" / 71 cm
Length 15.3" / 38.9 cm
Width 16.5" / 41.9 cm
Weight
Front Half 26.4 lbs / 12 kg
Rear half 37.5 lbs / 17 kg
Drive Mode
Height 35" / 89 cm
Length 47" / 120 cm
Width 22" / 56 cm
Weight
Assembled 64 lbs / 29 kg (w/o battery)
Battery 4.1 lbs / 1.85 kg
Shipping Dimensions
Height 19.68" / 50 cm
Length 31.49" / 80 cm
Width 16.53" / 42 cm
Weight: 81.57 lbs / 37 kg

Weight Capacity
Maximum user weight 265 lbs / 120 kg

Speed
Most countries, 4 mph / 6.4 km per hour*
*According to the local regulation
We do not accept medicare or insurance as payment.

However, we do offer PayPal and Shop Pay as a payment option.

You can finance and pay low monthly payments. There are options for weekly or bi-monthly payments depending on your credit profile.

Medicare and other insurance companies make it difficult for you to obtain a mobility scooter or power wheelchair. The process can take up to six months before approval.

To obtain a power wheelchair or mobility scooter through Medicare, you must prove to a doctor that you are not able to ambulate (walk or move around), even with assistance devices such as a walker, rollator, cane, etc.

This process can keep you from being able to travel, or move around freely for months; therefore, it's best to pay for the product via a payment option if you do not have the ability to pay it all at once.